Truffle cultivation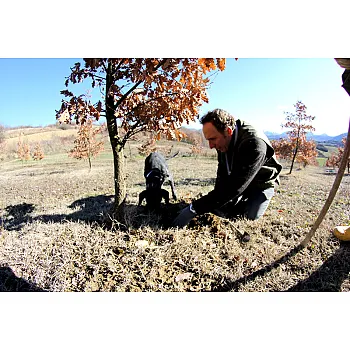 The cultivation of truffles is no longer a pipe dream, in Abruzzo it has been prominent for about 25 years and allows those who want to venture into this business to achieve concrete results. Those who have perseverance and passion will have the opportunity, within a few years, to have excellent results.
The types of truffles that are actually grown are the Tuber melanosporum (black truffle) and Tuber aestivum Vitt. (summer truffle or scorzone). The micorrizza spores of Tuber Magnum Pico (white truffle) are also grown but can be more problematic.
The truffles that are cultivated are often of superior quality to those found in nature, and this because of the privileged conditions in which they grow. The determining factors for the birth of the nose (the plant with which the spores form on the symbiotic relationship with the earth and the amount of water) are controlled step by step thus creating a high quality product.
S.Z. Tartufi has naturally owned truffle (photo) where fine black truffles are grown; constant dedication has allowed the SZ trafuti to obtain its ARSSA certification after only 4 years. This is proof of the huge opportunity to achieve results to be proud of.
Supporting Truffle Culture
S.Z. Tartufi will assist you step by step in the creation of your truffle, in this case you will be given assistance with regard to:
The selection and purchase of mycorrhiza is important: the selection of the most suitable plant mycorrhiza is naturally the first step for the development of your truffle. The plant's which S.Z. Tartufi selects for you, all have a high percentage of mycorrhiza and are certified, ensuring reliable results.
The start of the cultivation process: S.Z. Tartufi can assess the position, altitude and terrain and will provide all the technical assistance you need. Through helping and advising you, you will see better results, avoiding typical problems which can occur due to inexperience in the field.