White Truffle Cream 80g (2,82 oz)
Code: sz21
Excellent condiment made from butter, cheese and white truffles, easy to use for pasta, risotto, pizza and meat without adding any other ingredients. It's the best-selling product!
Show More
copyrightItalian product
local_shippingShipping from € 30
lockSecure payments with credit card
assistantSince 1980
Other information
Ingredients: cream, butter, milk, pasteurized eggs, white truffle (Tuber magnatum Pico) min. 2%, grated cheese (milk, salt, rennet), white truffle (Tuber borchii Vitt.), salt, flavors, cornstarch. The product contains milk products
Store in a cool dry place. Keep away from excessive heat and direct sunlight. Once opened, keep refrigerated and enjoy within a few days
info Need more informations? Click here.
mail_outline Tell a friend.
Customer reviews
White Truffle Cream 80g (2,82 oz)
07-10-2021
prodotto eccellente
White Truffle Cream 80g (2,82 oz)
02-01-2021
ottimo
White Truffle Cream 80g (2,82 oz)
30-12-2020
Ottimo
White Truffle Cream 80g (2,82 oz)
22-12-2020
Gustoso
White Truffle Cream 80g (2,82 oz)
07-12-2020
Da assaggiare
White Truffle Cream 80g (2,82 oz)
01-12-2020
ottimo
White Truffle Cream 80g (2,82 oz)
29-11-2020
Buono
White Truffle Cream 80g (2,82 oz)
07-11-2018
OK
White Truffle Cream 80g (2,82 oz)
24-09-2018
buona
Potrebbe interessarti anche
Novità

check_circle Available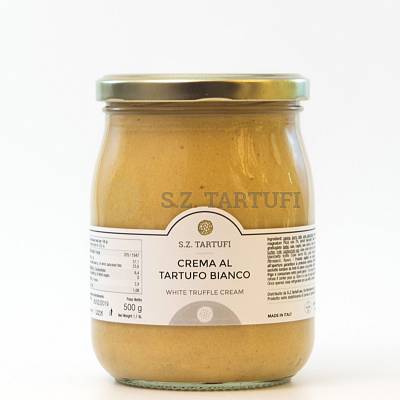 check_circle Available