Black truffle cream 500 gr. 1,1 lb.
Code: sz28
High-quality black truffle cream with Melanosporum, summer truffles and mushrooms. Great for pasta, pizza and meat.
Show More
copyrightItalian product
local_shippingShipping from € 30
lockSecure payments with credit card
assistantSince 1980
Other information
Ingredients: champagne mushrooms (Agaricus bisporus) olive oil, breadcrumbs (soft wheat flour, water, salt, yeast), black truffle, (Tuber Melanosporum Vitt.) Min. 3%, brandy, summer truffle (Tuber Aestivum Vitt.), Salt, anchovy paste (anchovies, Olive oil, salt, cloves), flavors, garlic, cornstarch, white pepper. Contains products based on wheat, fish and sulfites.

Store in a cool and dry place, away from sources of heat and direct light. Once opened, keep refrigerated and use within a few days.
info Need more informations? Click here.
mail_outline Tell a friend.
Customer reviews
Black truffle cream 500 gr. 1,1 lb.
07-12-2020
Buono
Potrebbe interessarti anche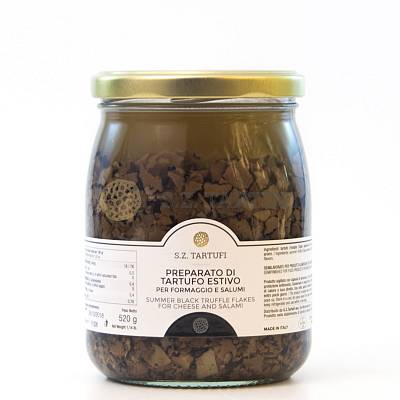 Summer Black Truffle flakes 520 gr. 1,14 lb.
Code: sz35
check_circle Available